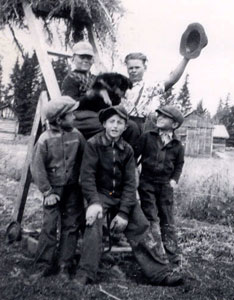 When I was 13 and brother Joe 11, we played at a CJNB radio amateur hour in St. Walburg. We got first prize, with Joe on fiddle, Pete Cydejko on guitar and me on accordion. An article covering the show came out in the town paper next week. I still have the one line well memorized. "The highlight of the evening was three youngsters from Kilronan".
At our Kilronan school, we kids were as prankster prone as anyone ever was. It was an exciting time, with school horses to do antics on, and hills and creeks to romp over when we played hooky. We sometimes got an older friend to get us a jug of wine, which we would hide, in a rock pile until a dance night. Carl, Joe, sister Margaret and myself all played at dances with different players.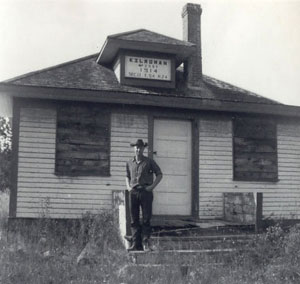 I quit school at grade 8 and joined the threshing crew. Our family started accumulating more cattle. All us brothers wore cowboy hats. We broke a few horses each spring and I became the calving man. We looked forward to going to the dances. Then we got our first amplifier, powered by a 6-volt battery. Sometimes, on our way to the dance, we would stop by a field where there was a tractor and take out a battery that was well charged. The dances did not always turn out as great as expected, and there was a down side as well. The hangovers and lack of sleep the next day was not that great as we tried to look as perky and non affected in front of Dad. A common trick was to get up on time and act as though you,r going to tear up the ground, Then go out to the field and lie down beside the tractor for a while. Our scattered out land came in handy sometimes. Our parish priest would raise hell on the pulpit. "We have all kinds of young people around that can go to dances and play music, and yet no one can get a decent choir together for the church". We had musical instruments lying all around. In the hayloft, the bunkhouse and workshop. When dad drove off somewhere, a couple of us would grab a guitar and fiddle or whatever, and play a few tunes. Then someone would yell "Pa's coming!." We would put everything away and crawl under or on top of some machinery we were working on.